Training Announcement:

How do I access RU Learning?

You can access via your desktop or mobile device:

Desktop

Mobile

Go to 

app.learnermobile.com

Click the University Login button.

Enter your University Net ID and password.

Download Learner Mobile from the App Store or Google Play.



Click the University Login button.

Enter your University Net ID and password.

How do I begin my required training?

Check out the To-do List section of your app (see image below) and select the training you wish to complete.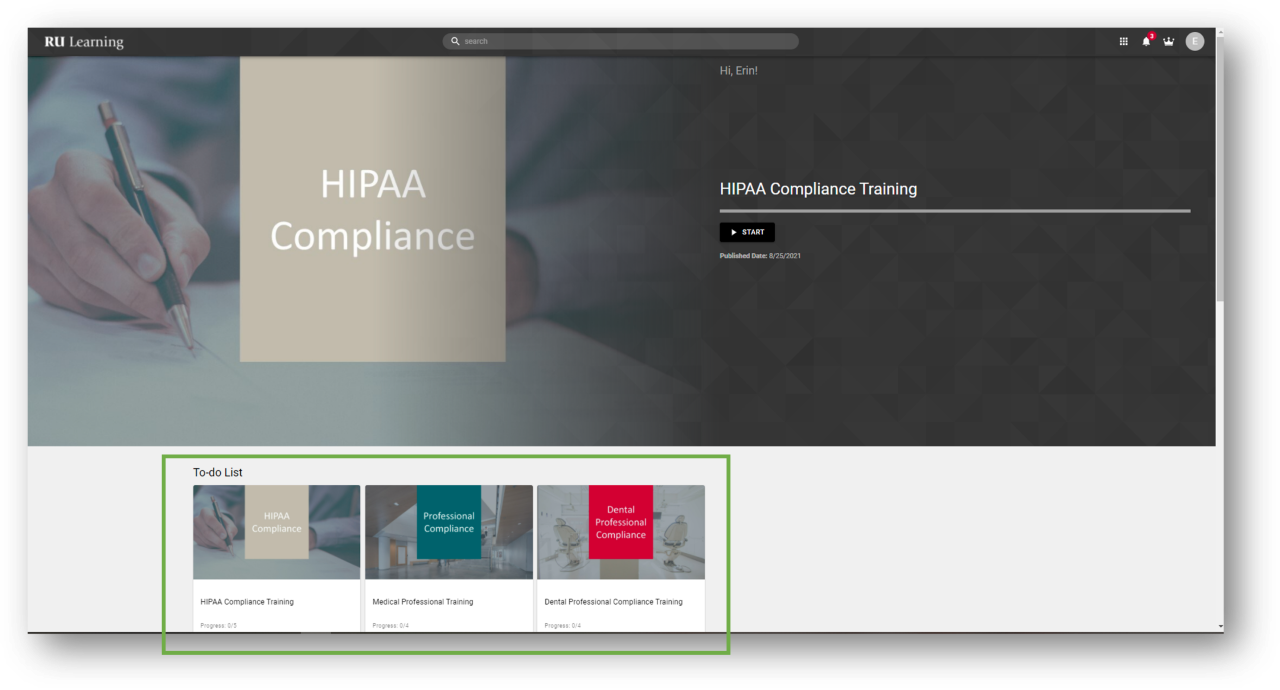 If you have any questions, please reach out to the University Ethics and Compliance team at ethics@uec.rutgers.edu or call 973.972.8000.

University Ethics and Compliance provides support for:
UEC is responsible for working with the Rutgers University community to manage its enterprise risk, ethics, and compliance activities. Formerly known as the Office of Enterprise Risk Management, Ethics, and Compliance, UEC's role is to:
identify, analyze, and mitigate enterprise risks
detect, deter, avoid, and respond to instances of non-compliance with applicable regulations and policies
provide service and support for an environment focused on ethical and appropriate business conduct
As you explore our website and learn more about our team, you'll find that we provide our support through assessment and monitoring activities, investigative services, training and education, and are regularly looking for ways to partner with our Rutgers colleagues to support a university that is committed to responsible, ethical, and extraordinary teaching, research, and patient care.
Please contact any member of our team to learn more about Rutgers University Ethics and Compliance.
Read Our Mission Statement | Read Message from Our SVP | View Our Staff Directory
Ethics and Compliance News and Events
Many members of the Rutgers community have begun asking questions about coronavirus cases at Rutgers. Even though most Federal and State privacy requirements have not been suspended under COVID-19, some requirements related to sharing data for clinical purposes have...